Starting a pediatric/primary care practice in 2004 means that in some cases, Dr. Ramon Ferrand has cared for two generations of families.
"I've seen patients who are newborns through adolescents. Now some of my original patie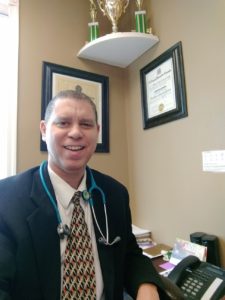 nts are having children of their own," he said. "It's a pleasure to see the transition going on before my eyes."
His patients feel just as bonded to him.
"We've built strong relationships. They know they can call me anytime to seek my guidance," he said. "I'm happy to help them in any way I can."
The latest round of proposed cuts to Medicaid funding for primary care providers has Dr. Ferrand worried that he may not be able to maintain his private office and the patient relationships that he cherishes.
"At some point we won't be able to continue functioning the way we have," he noted.
As a provider who accepts Medicaid, he relies on reimbursements to cover salaries and other expenses of running a practice.
"I have 10 employees, and they all depend on their salaries," he said. "They are worried about where they'll end up if we have to merge with a large group or close altogether. That would be a catastrophe to them."
Dr. Ferrand says that most physicians prefer not to discuss the financial challenges of running a private practice. Consequently, many people outside of the medical field don't realize that in recent years, commercial and government payers have introduced numerous requirements for data collection and reporting, which has driven up costs. At the same time, they have cut the amount that they pay for patient care.
"We are trying to do the best we can," Dr. Ferrand commented about himself and his colleagues. But if further cuts are made, he says, "Some of us will have to make drastic changes that will affect our patients, employees and our families."