When is the last time you made a good decision? This was one of the thought-provoking questions posed by Seth Godin at Ramon Ray's Smart Hustle Small Business Conference on Wednesday, November 1 at the Microsoft Center in Times Square. For me, the answer was easy. It was when I decided to wake up at the ungodly hour of 4:50 am, get on the 6:15 train out of Huntington, and hustle myself to the Smart Hustle conference. Godin was one of a dozen featured speakers who offered lessons, insights, and a number of "aha" moments throughout the day.
Tweeting some of their takeaway messages during the presentations provided me with a crib sheet of wisdom that I'll share.
The day started with Becca Brown, co-founder of Sole Mates who talked about "Publicity Hacks," and lessons learned as a Shark Tank contestant. Her advice on working with the press was spot-on. From her I also learned that maybe I can wear high heels again (check out her genius product).
Lisa Hendrickson, Innovator and Strategist, whose topic was "Are You Selling at the Right Price?" which is something many entrepreneurs struggle with, shared this:
Pricing is at the intersection of finance, marketing and sales.

The goal of pricing is to create stable margins within your business.

People buy for two reasons: to solve a problem, or to be aspirational. Which need do you meet?

Set your price based on your customer segment, not the product.
Jenn de la Vega, Community Manager at Flipboard, walked the audience through the platform, which I was not familiar with. I haven't tried it yet, but plan to explore this content-sharing channel which Jenn says provides high levels of engagement.
Salesforce pros Fariba Babaeizadeh and Jessica Medeiros shared some insights into the customer journey. Among the take-aways:
Today's customers want consistency, personalization and intelligence.

The top issues companies struggle with are marketing, sales and service (CRMs like Salesforce help with all three).

Marketing automation throughout the customer journey can help you stay top-of-mind with so-called "zombie leads" (prospects who are not ready to buy yet, but may be in the long-term).

The most successful companies use analytics to guide experimentation and optimize engagement.
Next up was Seth Godin, the prolific marketing guru whom many in the audience had come to see. And he did not disappoint, offering actionable advice and fielding tough questions from the audience. He started by discussing the concept of "hustle." His take: "The shortcut hustle won't work." Instead, he said, entrepreneurs need to work on the "generous hustle," and build their businesses by connecting with others.
Godin's talk was filled with razor-sharp insights. Here are just a few that resonated with me:
Your brand is not a logo; it is a promise.

In response to a question about how to scale a business, Godin asked audience members to raise their hands if they consider themselves "freelancers." Many hands went up. Freelancers are people who do the work; entrepreneurs are people who make money by other people doing the work, he explained. Entrepreneurs can scale. The only way for freelancers to grow their business is to "get better clients" (and raise their prices).

On the use of video: "It's never been easier to make mediocre video." Don't do it, he advised. Invest the money in high quality video.

On decision-making – you have to separate the outcome of your decisions with the quality of your decision-making. Just because something didn't work out doesn't mean you made a bad decision.
After lunch, David Mammano, CEO and Founder of Avanti Entrepreneur Group, and business coach Carl Gould did a "live podcast." Key thoughts:
Don't underprice yourself. Price yourself higher and you will attract your ideal client (hint: it isn't the bargain-hunter).

Successful entrepreneurs have to ignore negative feedback (and there will be plenty).

The two most unqualified employees are the person who has just been promoted, and the CEO of a fast-growing company. Both are in jobs they have never done before.
Michael Katz, Founder and Chief Penguin at Blue Penguin Development, talked about "Being a Likable Expert." His wise words included:
To differentiate yourself, tell stories, don't scale (do things that big corporations can't do, like sending personal notes).

Help people who can't help you.
On the Art of Influence, Mitch Fairrais had this to say:
To be influential, make sure you look at a situation from the other person's perspective.
Chieh Huang used his experience as founder of Boxed to entertain and educate as he discussed "How to Scale Smart."
Lastly, Chief Joseph Fox, NYPD Transit, provided "Leadership Lessons from NYPD." This remarkable man is so wise, kind and big-hearted. Speaking a day after a terrorist attack killed eight New Yorkers, he reminded us that we are all the light that must overcome the darkness of evil. I have to admit, I cried a little.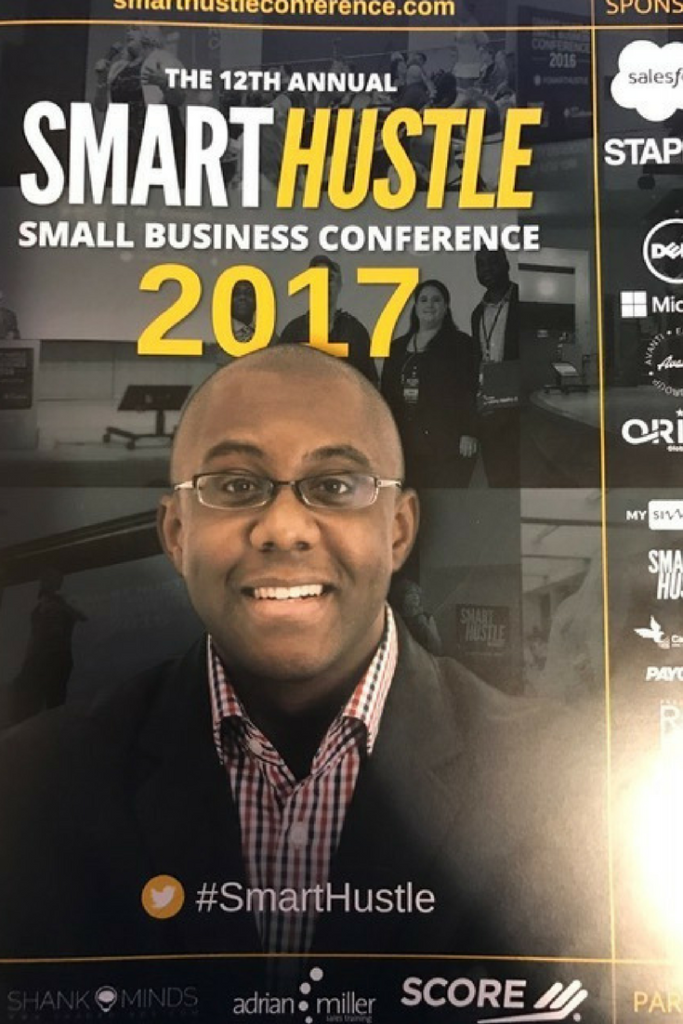 Have I mentioned Ramon Ray, Publisher of Smart Hustle Magazine and entrepreneur extraordinaire? His energy is boundless, he is smart, generous and warm. He is a brilliant marketer, speaker and conference coordinator. If you ever have an opportunity to hear him speak or to attend one of his events, take it. It is a decision you won't regret.