Apex Rehabilitation & Healthcare
Care Above All Else
You only want the best care for yourself or your loved ones.
Apex Rehabilitation & Healthcare understands your concerns. Located in South Huntington, New York, in a park-like setting, Apex is staffed by highly skilled, experienced, compassionate professionals. Our focus is on meeting your individual needs so that you may enjoy your highest possible quality of life.
VISIT WEBSITE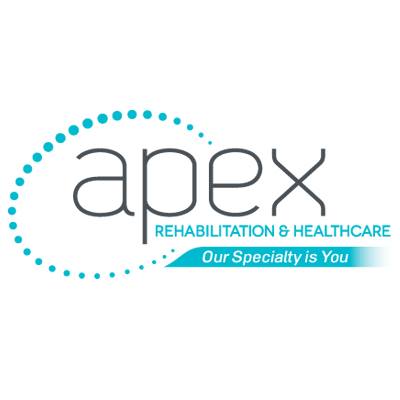 Our Story
In the summer of 2017, Apex Rehabilitation & Healthcare, a 195-bed skilled nursing and rehabilitation facility in Suffolk County, Long Island, recognized that it was at a crossroads. The facility's owners, who had renamed it when they assumed control more 10 years prior, felt that the community still associated Apex with its previous name and ownership, which for some people had negative connotations.
They hired PrescRXptive Communications, LLC, to perform a comprehensive communications audit. This marketing diagnostic included an in-depth evaluation of the center's visual branding, website, social media presence, online reputation, traditional media mentions, printed marketing material and signage. A community survey documented that Apex was relatively unknown by the residents of the local area.
Based on the findings of the audit, Apex engaged with PrescRXptive for a six-month period during which updates were made to make the existing website more patient-friendly. As part of a thorough media plan, press releases were issued regularly, earning Apex mentions in influential local media including Newsday, Long Island Business News, 1010 WINS Radio and News 12.
Reputation enhancement through community outreach was emphasized. To do this, a fall family carnival, traditionally held on the Apex campus, was revamped. More than 400 people attended. A monthly community benefit drive was instituted. Items were collected for hurricane victims, needy children and families, and local healthcare facilities. Among the beneficiaries were Big Brothers, Big Sisters of Long Island, Helping Hands Rescue Mission and Huntington Hospital.
The facility's relationship with the Town's Division of Senior Citizens was re-emphasized, with Apex providing a higher level of support at events and initiatives aimed at local seniors.
Social media channels were targeted for the distribution of more original content celebrating the facility, its staff and programs. In-service education around social media was provided to staff to reinforce the importance of word of mouth marketing, particularly that which is influenced and disseminated over social media channels. As a result, social media engagement has increased significantly.
Targeted print advertising in publications seen by hospital patients and discharge planners – two primary audiences driving admissions to Apex – were launched. At the same time, an out-of-home campaign was held in the local shopping mall during the busy holiday shopping season. At on-site events held at the mall, more than 1,000 individuals interacted with Apex representatives
Our Results
Admissions to the facility have increased 20%. While multiple factors have contributed to that outcome, Apex's increased visibility and connection with the community has undoubtedly played a role.
A follow-up community survey is planned to document change in community awareness and perceptions concerning Apex. These results will be used to refine marketing strategies and tactics going forward.
Let's Work Together
Find out how you can benefit from our winning formula. Contact us today.